Quality Machined Parts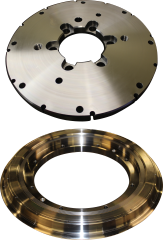 Flohr Machine is a family owned and operated full-service precision contract machining company. For over 50 years, we have provided our customers with quality machined parts requiring both small and large milling and turning diameters. We provide both high volume production and small counts in a wide variety of materials: carbon and alloy steels, ductile and grey irons, plastics, aluminum and exotics. Flohr Machine utilizes the latest CNC equipment integrated with a computer-aided drafting/computer-aided manufacturing system (CAD/CAM) to provide design flexibility and production control.
We have tremendous commitment and focus to provide superior customer support. We will meet both quality and delivery requirements, helping our customers with their inventory control while maintaining a reliable supplier base to help us provide essential value-added services.
Both our management team and shop personnel are focused on exceeding our customer's expectations.